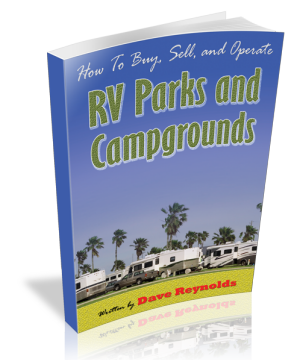 Available in Paperback and/or Instant Download
Introducing The First and Only Book of Its Kind...
A 'Step-By-Step' Book that Removes the Guesswork and Frustration out Of Buying, Selling, and Operating RV Parks and Campgrounds and it is... GUARANTEED!!!


RVParkUniversity.com Presents...
How to Buy, Sell, and Operate RV Parks and Campgrounds
Written by Dave Reynolds, RVParkUniversity.com
Dear Current or Potential RV Park Owner:
Let me start off by making you a BIG promise. If you will read this book and apply the concepts and tools contained therein, you will make fewer mistakes and gain the knowledge on how to buy, sell, and operate an RV Park.
Wait... I have one more promise to make. If after you read this book, you do not find that it was worth the price you paid and much more... I will refund your money... NO Questions Asked!
These are some powerful promises and if you take the time to read on and take advantage of the opportunity that is presented to you... then "THANK YOU DAVE" will become your mantra!
Let me prove it to you!
For those of you who don't know me, my name is Dave Reynolds. Over the past 10 years I have been involved in many aspects of the RV Park and Campground Industry including:
Purchasing, Operating, and Selling RV Parks and Campgrounds as an investor
Selling RV Parks and Campgrounds as a licensed broker
Helping 1000's of buyers and sellers either buy or sell an RV Park or Campground through RVParkUniversity.com
I do not know of anyone else that has been involved in one capacity or another with the purchase and sale of as many RV Parks and Campgrounds than I have been.
Good Morning Dave,

We bought you e-book and had a copy printed and sent to us also. I have read it a bunch of times and also sent it to my accountant. We are in the process of buying a campground and found information we would never have thought of on our own. I found the book very informative and helpful.

Thanks Mike
Dave,

Thanks so much for the book. I read it quickly and it has almost all the answers to questions we had about purchasing an RV Park. This is a valuable resource, as we have tried to find a book on purchasing and operating an RV park for a long time. We had located a park that we were interested in and met with the broker last week. We were well versed and had appropriate questions to ask.

Thanks, S. Peters
Dave,

I thoroughly enjoyed your book. It is an excellent compilation of ideas for people interested in purchasing campgrounds and rv parks. I would recommend it to any of my buyers as a resource tool.

Jerry Persons
CampgroundFinancing.com
In this time, I have made many mistakes and have seen other investors make these same mistakes as well as several others. I have put this book together to help you learn from my mistakes and experience in the industry.
Here is a sample of what you will find inside:
How I Started in the RV and Campground Business
Why you should or shouldn't invest in an RV Park
Over 15 ways to find RV Parks to Purchase
REAL Life Valuation Methods on how to figure out what an RV Park or Campground is Worth to YOU (not someone else).
A list of over 50 Due Diligence items - Would you like to save Hundreds of Thousands of Dollars by not making key Mistakes?
Powerful ways to Increase the Value of your RV Park and Campground
Information on getting Financing and Insurance on your RV Park
What to do when the Seller of an RV Park is not reporting all of his income or is padding the expenses with everything under the sun!
Internet Marketing for Campground Owners - I have spent well over $20,000 to learn more on Internet Marketing and I will give you some powerful strategies on using the information I have learned to apply it to RV Parks.
This book is for: First-time investors, Seasoned investors and any other Business Professionals in the Recreational Vehicle Park and Campground Industry
RV Parks and Campgrounds can be exciting, fun and profitable investments and with the tools and strategies you will learn from this book you will be ready to take the next step and Find an RV Park / Campground to Purchase!
If you are ready to educate yourself and excel in the Recreational Vehicle Industry, then it is time to take the next step.
Just one lesson learned from this book can save you tens of thousands of dollars.

Don't make a $225,000 mistake as I did!





How to Buy, Sell, and Operate RV Parks and Campgrounds

is available in paperback or e-book form.



Free Bonus #1:

You will receive a copy of the contract that I use to Buy RV Parks and Campgrounds!



Free Bonus #2:

You will receive a sample business plan that I submit to banks to help obtain financing for RV Parks and Campgrounds.

90 Day Money Back Guarantee
If you're not completely satisfied with Book for any reason, simply return it in resalable condition and we will immediately refund your invested money in its entirety - no questions asked!
P.S. If you really want to explore the possibilities of RV parks, this book is a must-read. It is 100% facts with no fiction.